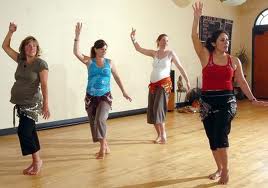 Move Groove, shed off those extra pounds
Get your dancing shoes on and tune in to your favorite track. Dancing is one amazing way to lose weight and you'll enjoy it. Shun the monotony of daily workouts and exercises by opting for simple dance forms such as belly dance, coarse dance and tap dance to shed off those extra pounds. Call up your friends from the neighborhood and hit the dance floor with the best music beats. Stay at home moms can enjoy their dance by dancing along with children from the neighborhood.
You can also hold dance competitions at home to motivate other people to dance as well. Dancing is an excellent exercise for weight loss and involves movement of the entire body. This means that the entire body is being worked out when dancing. Finding an exercise that you really enjoy like dancing is the best way to lose weight. Belly dance helps to tone muscles and is a good workout for strengthening muscles and bringing coordination.
Enjoy every move and dance to your favorite tunes, as dancing is good for overall health.